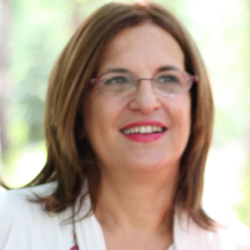 Milena Harito
Orange Europe countries - VP for Energy, Networks and IT Orange
Milena HARITO is leading the Energy, Networks and IT as VP at Orange for the European affiliates.
She is a bi-national French and Albanian, with an ICT degree and a PhD in "Networks and Systems" from the Paris-Sorbonne University, with a high-level career as well in the private as in the public sector.
She began her carrier as a researcher at Orange in France, where she held until 2012 several managerial positions on operations, networks strategy and regulation in relation with the EU institutions.
From September 2013 to September 2017 she was a Member of Parliament and Albania's Minister for Innovation and Public Administration, where she led a large digital transformation of the public services, the transition from analogue to digital transmissions for TV broadcasting opening the way for the 4G auctions and the 4G deployment during 2016 for the main telecom operators in Albania, Deutsche Telecom and Vodafone.
Between 2019 and 2022 she was in charge at the Office of the CEO of ORANGE to represent him as Chairman of the GSM Association and in several telco European collaborations.
Mrs. Harito speaks currently four languages: French, English, Italian and Albanian.
She was awarded the French "Ordre National du Mérite" by a decree of the President of the French Republic in November 2017.
<< Back